Description
SafetyTac® Floor Marking Tape
Facilities around the world have chosen SafetyTac® as the tape to create or enhance their floor marking systems, and once you use it for yourself you'll see why. SafetyTac® floor marking tape was made for tough industrial environments and designed to withstand the conditions of any workplace. Its rigid material is resistant to water, chemicals, UV, and heavy forklift or pedestrian traffic. The edges of the tape are dual-stage tapered so it won't present a tripping hazard or get caught on wheels, while keeping walking surfaces even. Thanks to a reinforced, durable adhesive, SafetyTac® floor tape will get the job done for a long time.
Specifications
| | |
| --- | --- |
| Thickness: | 35 mil wear-resistant rigid PVC |
| Edge: | Dual-stage beveled edge |
| Surface: | Smooth, slip-resistant finish for easy cleaning |
| Material: | Made from rigid Shore D50 material |
| Adhesive: | Extremely durable dual-sided cloth adhesive |
| Adhesive Color: | White |
| Liner Color: | Blue |
| Peel Strength: | 14 N/25 mm |
| Tensile Strength: | 80 N/25 mm |
| Application Temperature: | 40°F to 90°F (4.5°C to 32°C) |
| Service Temperature: | 0°F to 130°F (-18°C to 54°C) |
| Warranty: | 1 year limited |
Recommended Downloads
Best Practice Guides
Dual Stage Tapered Edges
SafetyTac®'s tapered edges allow vehicles and carts to easily move over the tape. You can move anything along your floor without worrying it'll get caught.
Low Profile
SafetyTac® has a low profile that blends seamlessly with your flooring so it doesn't create a tripping hazard.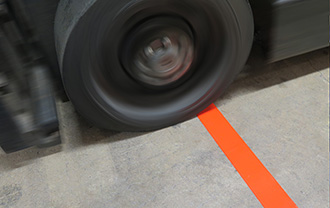 Industrial Strength
SafetyTac® withstands the tough environment of industrial facilities. It's designed to hold up to difficult conditions and resist spills, water, and heavy traffic.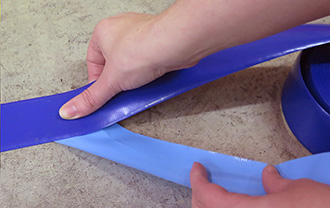 Easy to Install
It's effortless to apply SafetyTac® to your flooring. Remove the backing of the tape, position it where you'd like, then press down firmly.
Request more information
Send me information about SafetyTac®
Get more information about this product and one of our sales representatives will be in touch with you shortly!
Warranty

We know our industrial floor tapes are the toughest on the market, so we stand behind them. As long as they are installed and maintained properly, SafetyTac Industrial Floor Tape, SafetyTac® Lean, and SafetyTac® Hazard come with a one-year warranty. If you have a problem before your warranty period is up, we'll replace your tape for free.